Welcome to the first set of actual gallery updates. The Armada Gallery is now current, so head on over.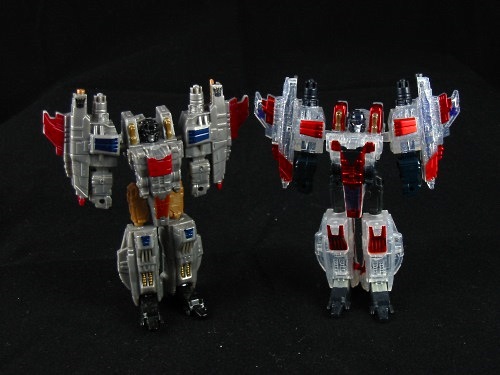 Legends Class
Earthdate: 19/02/2017
Photo Tent has been ordered. I have chosen a 32" tent, it comes with different backdrops and has lights. Its a professional tent - will be a better rig than I had before which was a black desk, poster card, fish tank lights.
Its a lot bigger than I anticipated. I might order a smaller tent for smaller figures. But all in all it can take the largest in my collection which was why I got it so big. In fact, I can sit inside it.
SO this means Photos coming soon of figures.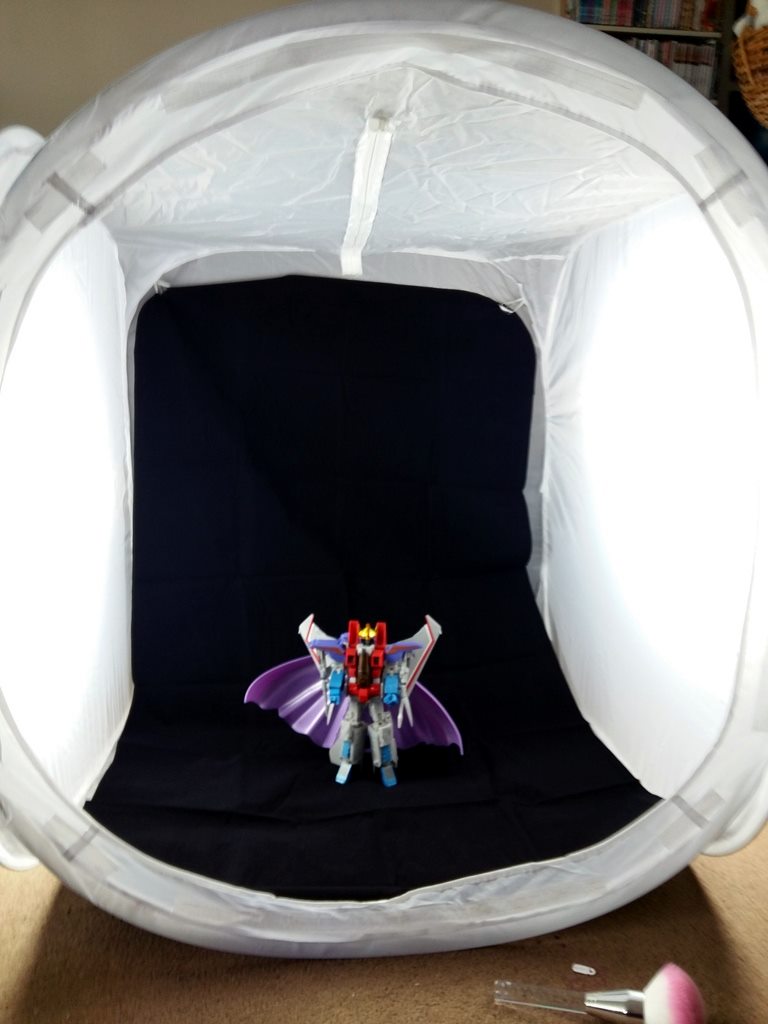 Photo Tent with MP-03 Coronation version for Scale.
I am just getting some things setup right now. I should have photos within the next day or so. I have a 3 day weekend.
Earthdate: 11/02/2017
I am a little bit tickled pink today.
So my collection needs dusting - it ALWAYS needs dusting. But I thought I would take a quick snap so anyone checking this site out gets an idea of how this collection is displayed.
I plan on covering my display and my reasoning for my choice sometime in the near future.
But for now....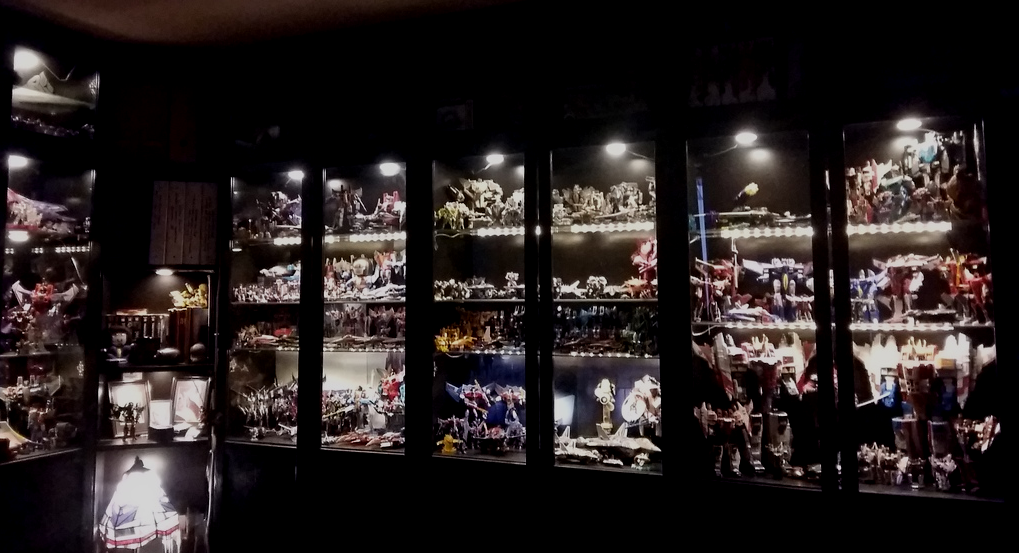 Collection as of Feb 2017
Earthdate: 9/02/2017
I was out at walmart the other day. I really try to avoid going there but my mother wanted British sweets. So off I wander to the toy are and found the transformers Tiny Titans Series 5. "Oh great! There is a Coronation Starscream in this lot." So I feel around until I found something Distinctly smooth and "triangular" I decide its the cape. I feel around and only find this one figure. So I picked it up, and one at random. When I finally pay for my item and sit in the car I start to "Hee! Heee! Hee!" because I found the right figure.
When I was looking the Tiny Titan figures up, I learned all I needed to do was press the plastic to the card, its thin enough the name can show through. DUH!
So we now have a new coronation Starscream
Overall this little figure is cute but has a poor paint application, due to that I will be getting a second one so I can paint it up the way it should be.
I want to do photos but I need a photo tent.
I also wish to bring up that my site at one point said we had 75 Starscream figures in this collections. I now have over 200. This includes transforming figures, and non transforming items as well. This is why logging my collection is going to become a hell of a chore.
Earthdate: 2/02/2017
Soft Launch is tonight.
I will start to say that there have been things removed for the time being. Not everything was deemed essential and they can be added at a later date. Photos of Figures from the past 10 years will be added over the next few months. I may break the toys pages down further if anyone indicates loading time is an issue. I would have to make some modification to the code.
Upcoming Plans
 
Photo Tent to take photos
 
Add Other Sections
 
Starscream Generations
 
World Domination
I am also contemplating adding some of my thoughts and essays about Starscream and his various comic/show/movie incarnations.
Thanks to Paul Thurman for poking at the site and helping reveal some errors.
Earthdate: 28/01/2017
I have to say things are running quite smoothly.
I have updated the fiction pages. I split them off into Starscream Chronicles, Seeker of Vengeance and Alternate universes. If anyone is really wanting to, I may consider popping up the old co-labs such as Lab Rats or Ties that Bind.
Artwork section is next. I spent a bit of time before work plotting how to break it up. I want to go gallery style like in the Shrine. I will have several choices in the drop down menu and include my favourite Thunderstruck Comic and Seekervese.
I will probably put the site live as soon as the artwork galleries are done. I will then decide if and how I should include the Starscream Generations - which truthfully needs more work done.
Once the vast majority of my site is copied over, it will go live. I expect within the next week or so barring any other issues.
Earthdate: 26/01/2017
At this stage I have completed all but three of my collection sections (comics and misc items may or may not be included in future.
My next attack, until a photo tent setup can be ordered, will be the fan fictions followed by artwork. I hope the fics go fairly quickly, as it will be mostly just change what the pages are looking at CSS sheet wise and Bob's your uncle, it should be done. I do anticipate a number of broken images that will need to be addressed – with fresh and updated site imagery.
As for Tfcon this upcoming July, not sure if I mentioned it on this current section, but I'll be working it. I am extremely excited over this. It's actually the Tfcon that is driving me to re-learn my web mastering skills. I have been most pleased at how quickly I re-adapted and the new code I have been able to use to freshen it up a little.
I speculate that I will still utilise "The Daily Energon" as my archive of news. Not that its daily or anything, at the current rate its almost "The Yearly Energon" or "The once a Decade Energon". Maybe the Great Sleep is a better idea.
Earthdate: 20/01/2017
Thanks for checking this out. What is happening to far, is that I am adding pages one section at a time, renaming the images to the current plan and uploading. I will by the time I am complete or soon thereafter, have a photo tent and take photos of what is left.
there are other changes I may make with the actual collection drop down menu. I may have to break it into two as it may get unreasonably large. But nothing is set in stone until relaunch in June or first of July. However, the layout is as I want it. I am pleased
Currently being linked are: Masterpiece, G1 and Non Transforming G1. I will be following with a Vintage Items G1 as well to cover a number of things like the Pretenders, decoys and stampers.