Earthdate: July, 16th 2014
It's Started!
I am taking a breather for the moment - so let me get things updated!
I have my records of my collection well underway - the file is by no means complete but it is doing what it should be doing - helping me keep track of stuff. However without pictures involved, there are some confusions. I have catagories in the file that I can check to indicate if Photos are taken and if I published it on site. Also – I have a section to mark if I actually wrote about it in Starscream Generations. I need to continue that section; maybe after the re-write.
Section completed:
PVC figures- all those little rubbery non transforming guys.
Section in Progress:
Exclusive Figures - All those merry little guys who were shop promotional, Convention exclusives etc. (Not McDonalds or Burger King things)
Nick Nack Items -I can't wait to get into this section, there are a few cute little Starscream things I have picked up that deserve a spot in there. Also an item that has me most perplexed as th what the pit is it...you'll see once I ask for help in finding out more about it.
I am also going to re-merge the Movie Starscream's with the main shrine once again. It just will make the shrine rather huge but it can be broken into three sections maybe four
Photos in Progress
It took a while for me to figure out how to get a macro setting on my camera to work. It's not perfect - but at least I can get a close up mug without the need of endless cropping. So new Photos are being done, and some are hidden on the site already awaiting the day I open the pages up to the public! I am still displeased with my "photo table" setup but it works well enough for now.
A Collector's Frustration
I have noticed a couple of my favourite figures (there are few that are not my favourite) have shown signs of age - yellow tinged plastic, I can only assume was from when I had them in my living room. They are now in my bedroom where it is pleasantly dark, cool and cozy. Fortunately for the worst off figure, I have a MISB(bag) double. I don't want to take it out of the plastic for the time being. That figure lives in a dark drawer. But what can we do?
Also, not a frustration but a question, would it be interest to anyone if I showed up at a convention with the collection – the bits I dare bring - for display?
- Sunstar
Earthdate: July, 14th 2014
TFcon 2014
Well this weekend saw Tfcon, I saw the opening ceremonies, and a few other things. I found myself really, really tired this year and I ended up missing a few things I wanted to see. I did pickup a few new toys, which I have photographed and planning to update to the website.
I did have a good time and I came home with some nice artwork. I will see about getting this art posted at some point. Either by scanning it or taking a good photo. One of the arts, I picked up was a Comic panel line art from RID Book 20 page 21.
Toys Re-organisation in Progress.
I am trying to figure out the best plan for re-organising the Starscream's shrine page. I have a lot of toys, covering a lot of lines and I am trying to figure out the best way to do this. My Page targets seem to not want to work at all and having the huge unchanging menu at the top when you change sections is not very user friendly. Give me some time while I chew on this.
- Sunstar
Earthdate: July, 10th 2014
TFcon 2014
Well this weekend is the Toronto Tfcon 2014 and also represents a convention on the 30th anniversary of our beloved series. I look forward to meeting some of the folk who attend every year, some of them I have become friends with.
Fan Fictions re-organised.



The Fan fiction section found here has been updated - well at least reordered. A new Fanfic is just going to be checked over in a few minutes and then be posted. It's called NightFall and is in the Starscream Chronicles section of the fics. I have chosen to group the fan fics by their series now so it can be easier to follow the progress of Starscream as he turns from scientist, to the twisted mechanoid he became 10 million years later. These stories could be classified as individual chapters of a much larger book - however each story can stand alone.

Seeker of Vengeance and it's backstory fic, Enemy of the Cause, also have their own heading.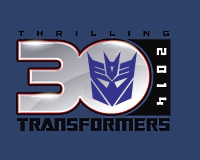 These two fics could actually link into the Starscream Chronicles, but I have chosen not to as they may have continuity errors. And finally all the fics that really do not fit into the Chronicles or SoV. These fics are usually just random ideas, that get written down, the odd crossover, and a couple of character kill offs, they are written just because.

Removed until a later time are the heavily RP based fan fictions. These will be returned to the site as soon as I have decided whether or not they get their own section. They are still in their directory so if know the file name, by all means take a gander.

As of now, a new fic is being birthed, it could be a large one considering it covers Starscream's entry into the Military - that is all I am gonna say. I will be re-reading much of the other fics I have written to ensure it maintains its details and facts.

So until later - Quite likely this weekend, see you at Tfcon!

- Sunstar



Earthdate: June, 2nd 2014
First true contact & communication with a Starscream
All Hail Lord Starscream!
One more time!
Perhaps it was not an actual face to face meeting. I really wanted to go but I was unable to do so due to guests and other circumstances. I was told by my college friend, Loeki, that Michael Dobson (Armada, Energon and Cybertron Starscream) would be at Anime North on May 25th 2014 in Toronto. I wanted to go very badly unfortunately I could not – real life hits you broad side like a tractor trailer. But Loeki did not disappoint, in fact she did more than I could have dreamed of.
After explaining to Mr. Dobson that I was somewhat of a fan of Starscream and having him sign a book for me, he asked if she would record a message for me.
The message is Video Message as well as a response to my twitter message in thanks.

- Sunstar
Earthdate: May, 26th 2014
Catching Up
We have Just added two new (read 5 years old) comics that have been kicking around on Deviantart but not yet on the site. It was the Seekerverse Series. I have not decided yet if I will continue with this series arc or not. But I think as far as it went, it ended on a humorous note.
I realise that that type of comic may not be many people's cup-of-tea, but as I stated before it simply was meant for a humorous, light hearted in nature story.
The two strips added to complete the arc are Swear Jar and the 25th Anniversary
Please view them and enjoy - and sorry for the delay
- Sunstar
Earthdate: May, 20th 2014
Happy Birthday Rundown!
Rundown is my Pet Pigeon. Reared from an egg and has gender issues. I call him by male pronouns however he is in fact a female. Because HE lays eggs. Rundown really is a little girl and has turned 4 years old today. I was worried about the bird's health because Rundown only laid one egg and I feared he had become egg bound. Rundown only laid one egg, likely in response to the two I had returned to the nest after the previous week. Rundown however does have an injured wing and needs to feed his face so I can give him some painkillers that the vet prescribed.
New Goodies at the Sanctuary
I have received the latest shipment from BBTS. I do not have any in the box shots of what I got because my phone was with my spouse as he went for a walk.
I have received Infiltrator Starscream with the book (written in Japanese) This figure is gorgeous, transparent plastic, black, blue and red primarily. It has a second weapon that the Other variants of the Fall of Cybertron Starscreams do not have... I'd have to play the game to see which one it actually is. Very sweet. Photos will be forth coming as soon as I get my camera back in hand.
I also received Battle masters Barricade and Starscream which look nothing like the characters above. I would have not bought them had Starscream not been involved. I can see these being shelf warmers as they are virtually pointless and kinda dumb. I wonder what the app does - again I can't play around because the husband has it.
And Earrings I can now wear Decepticon earrings at the TFcon.
- Sunstar
Earthdate: May, 19th 2014
New Section Started!
Only one page, so for the time being the link on the left will be directly to the Voices of Starscream page which is a fledgeling page for Behind the Scenes. This section I hope will cover any interesting bits and pieces found out about the Transformers series more secret workings. But in Any event, we start off by giving acknowledgement to the six actors who gave Starscream his voice throughout the 30 years the series has been running.
Photo Plans in the Works
Photos are the primary hold up at the moment and currently its a bad time for me to set up an area for its purpose. I am trying to decide, Where are Photos going to happen first of all, In my bedroom near the collection, or in the living room near my desk. The next question involves a setup for a Photo Tent. I have obtained a sheet to use, but I would like a frame to attach it in. So I am googling all sorts of DIY Photo tents. I believe I will obtain some Black and White Velvet to use as the background, I need to consider the largest figure I have and also the group shots. I may need two sheets.
What I am thinking of doing is either semi-permanent and collapsible. Then I need to consider lighting. I really am itching to get this show on the road.
The other thing I am plotting to go along with the photos is a database - or at least a spread sheet of my figures to acknowledge who is published on site and who is not. I may consider making that file as a PDF available on the website.
That is all for now folks, I am waiting the arrival of another shipment of goodies, I forget what is in it. Earrings for sure.
- Sunstar
Earthdate: April, 15th 2014
Subject: Sad News

I should be studying for my last exam in chef school (Culinary Management) exam is for Event Management. A course I do not particularly like for reasons I am not going to express outside of my own facebook page.
The sad news being that my Stepfather passed away Monday morning (April 14th 2014) after a massive heart attack two weeks earlier.
It has been a long two weeks and very emotionally charged period in my life where stress could not have been any more worse due to the impending finals. I could, if I wanted to, delay my finals because my reason is very legitimate, however I rather not do so. I want to get this over and done with so I can support my mother as she enters her new reality.
I will give a shout out to those at my college who have been beyond golden and compassionate in my time of crisis.
Chef Peter Blakeman
Chef Robert Demers
Chef Sam Seiver
Chef Picone
Chef Jim McClean
Chef Michael Olson
Brian and Mary Beccario
All of you have gone above and beyond anything I had ever expected of anyone. Thank you so much for your support.
Coming to a Sanctuary near you
Transformers Generations 2013 Volume 01 - Exclusive Infiltrator Starscream & Book I can only assume the book will be in Japanese and unreadable However the toy will be pretty. I am also getting a pair of Decepticon Stud earings. I shall be gleeing.
- Sunstar
Earthdate: April, 11th 2014
Subject: Moar Stuff arrived

I see myself easily getting backlogged in the wonders of 30th anniversary goodies. I arrive home to find a box sitting waiting from Big bad toy store. I am impressed at how fast that arrived. It was mailed out on Monday and arrived to me on the Friday of the same week. I can't wait to open the toys up and play with them... but with out further ado, I direct your attention to the section below.
What has arrived at the Seeker Sanctuary



What has arrived are 3 sets of 30th anniversary Transformers Super Deformed Figures. The come compete with a collectors card and base. As I have yet to take them out of their package, I am unsure what the bases do, they appear to make a sort of puzzle.

The collections are

Transformers Prime including: Optimus Prime, Megatron, Ratchet, Starscream and Bulkhead
Transformers Generation One including: Optimus Prime, Megatron, Ratchet, Starscream and Soundwave
Transformers Movie including: Sentinel Prime, Starscream, Ratchet, Megatron and Optimus Prime


Transformers Generations, Armada Starscream - Takara variant. I got the Hasbro Variant a few weeks ago.

Loyal Subjects Rain Makers - Super deformed. - I started collecting the Seekers of this line when I accidentally was sent Thundercracker instead of Starscream by mistake. I still have Thundercracker and BBTS resent the figure allowing me to keep TC and the Starscream. So, I have started to collect the other Seekers and I have Sunstorm now. So 6 Loyal Subject Seekers in total.

For pictures of the above items check out Facebook page is where to go. Visit and like us today! We like you

- Sunstar



Earthdate: April, 7th 2014
Subject: Largely Transferred - Now fine tuning!

HAHA! That took a lot less effort than I had anticipated. Now to go over some of the finer points of what has happened.
What is gone from the Sanctuary
Seeker Sanctuary is no longer operating a forum. Why?
There is enough social media out there that the Sanctuary can use in lieu of a forums and more convenient for those who are interested in it too.
What has been added to the Sanctuary
I have now connected the sanctuary to Facebook and Tumblr. Of the two, facebook is more reliable for my postings and the frequency of posts will be significantly more than even this main news page. I am looking into adding share and like links for facebook but please do not hold your breaths. I am horrible with html or related code.
In Fan Fictions
New Format for my fan fictions: I am including PDF files with my fan fictions – at least those that I feel "worthy" of it. Some of my fictions are compiled into a collection. The others are either stand alone or awaiting their own compilation under the Collection title of "Starscream chronicles". I also have another fan fiction written – just recently too. Finally Starscream let me in on his secret I have been trying to drag from his sorry Seeker aft for the past 5 years. It has been aggravating trying to get the information and now I am just awaiting a great time to publish it – preferably when I get it edited. I am still attempting to learn grammar and punctuation.
Thanks to my loyal Subjects
I wish to thank those fans of the sanctuary who I have encountered over the past years either at conventions or other strange places. I find the fact you have found my site and enjoyed it or even used it for your research incredibly heart warming. I intend to make it up to you by attempting to be more diligent in my efforts to provide my resources for your use.
Coming as soon as I get set up again.
Toys... hahahaaha more toys – Judging by my last count on the sanctuary and what I have gathered and what is still to come, I have over 100 more toys and items to be archived. My site may have been dormant, but I have continued my collecting. It is just a matter of choosing an appropriate area for photographs and getting my graphics editor working to my satisfaction.
this is all for this brief update. For more updates about small things Facebook page is where to go. Visit and like us today! We like you
- Sunstar
Earthdate: April, 6th 2014
Subject: Very Behind the Times – Website Change Coming

Well, long time no update.. too long. Far too long. I am very apologetic to my friends and fans whom I may have let down. Here is what is coming:
I am going to be redirecting Unicorn Cottage Company URL's at some point in the unknown, but hopefully near, future to my new domain starscream.ca . Ideally I want to have the site re-written but my coding skills are antiquated. So I am looking for someone who is willing to donate some times to help teach me or aid me in construction of this site.
What I have been doing to get things so terribly behind. I will say at least 4 years back, possibly more, I went into a massive depression due to unemployment. I have managed to take the bull by its horns and turn that around. The past two years I have not been sitting on my laurels and have actually returned to college to learn something I always wanted to do - to become a Chef. I graduate in June, and I should have Honour's Standing. I have enjoyed every minute of it and have found employment.
The only drawback of both my chosen field and school is the lack of time to do things like rebuilding a website.
I have not been without collecting for the time the site was not updated. I have Many many figures I need to Photograph and upload. All of the 2007 - 2014 toys and figures (or most of them) Fixed up Fanfictions - well at least in PDF files and trying to organise some other methods of reaching out while the site is in it's mess such as a starscream.ca facebook page. I have updates of my current acquisitions and some photos of my collection in its beautiful display unit.
Please forgive me for my Behindness while I get the new site built and this site redirected. However now I got my access to this one back, I can at least keep updates on the progress.
- Sunstar